BOM has been working on a series of projects focussing on air quality, how technology might improve our health, and the ways art could help to generate interest in this important contemporary issue. Often in partnership with Francis Pope – Professor of Atmospheric Science at University of Birmingham –  BOM's team and Fellows have developed some high profile and compelling works that we're actively developing over the coming years.
BOM Fellow Robin Price's acclaimed "Air of the Anthropocene" project consists of a series of long-exposure photographs that visualise pollutants in the air at different locations across the globe. Using an electrical 'wand', developed in part during Robin's initial R&D time at BOM back in 2016 (when he met Professor Francis Pope), these images appear to show a window into a dimension where we can suddenly see the dangerous particles we breathe in without realising. Air of the Anthropocene has been featured in Source Magazine, New Scientist and The Guardian.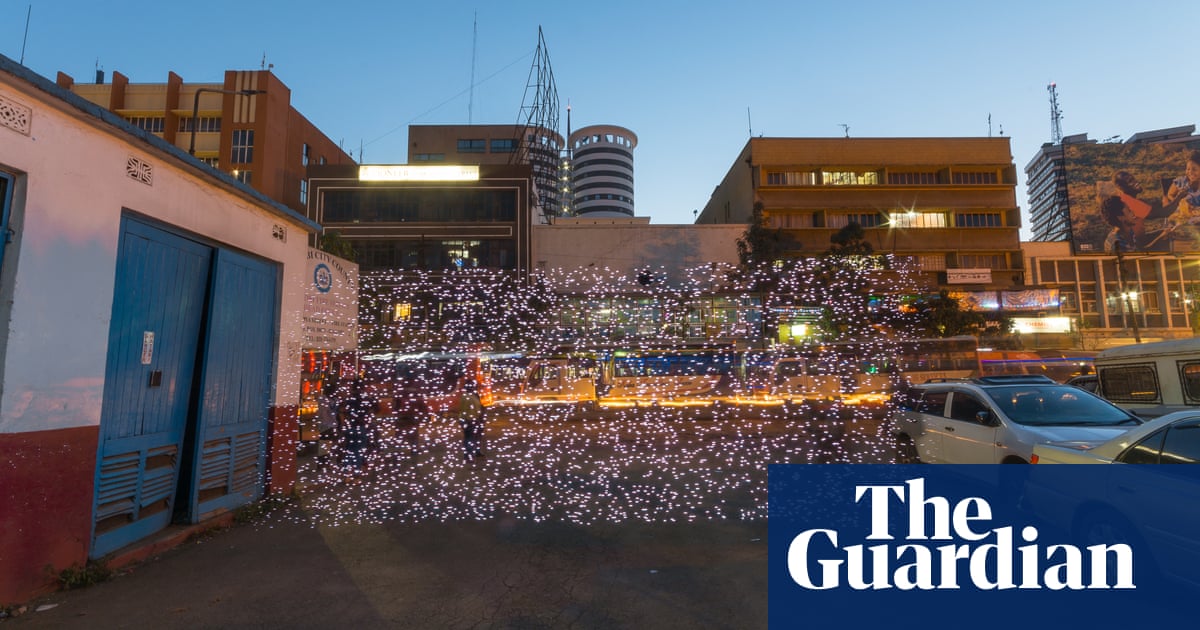 In November 2019, in partnership with the University of Birmingham, we commissioned Robin to produce a new series of photographs in Addis Ababa, Ethiopia as part of a public engagement campaign BOM was developing. Large-scale posters featuring Robin's stunning images were located in bus shelters across the City (in fact they're still there, 5 months on) and were also printed on postcards to capture the views of the public.
As part of this engagement with research project, BOM developed and prototyped the SelfAir app – an Augmented Reality mobile app which visualises airborne pollutants using a device's camera. SelfAir takes readings from low-cost air quality sensors which run on Raspberry Pi computers, and allow users to take selfie photos.
You can read more about our public engagement with research project in Ethiopia here, which supported University of Birmingham in their research for the project 'A Systems Approach to Air Pollution' in East Africa. BOM producers Ben Neal and Chloe Lawson spent a week in Addis Ababa working with local school children delivering workshops, chatting to the public and demonstrating the SelfAir app to young people. The team captured the valuable perspectives of citizens which were shared with policy makers and researchers.
BOM is now looking to develop the SelfAir app further as a full app for iOS and Android which will be free to download. We're exploring a number of ways we can develop the app at the moment, such as how it could be used to monitor indoor air quality, how we might enable users to output their images directly to social media platforms, and how we can link to live data feeds from the 1,000 new 5G air quality sensors being installed across the West Midlands over the next year.
We're in discussion with organisations such as WM5G and Alphasense, a major manufacturer of air sensors about upgrading some of the equipment and technology used, and delivering the product more widely, as well as exploring more ways in which this project could evolve. With air quality a growing, global concern, we know there is a huge opportunity to engage young people creatively in conversations around air quality and, hopefully, inspire a new generation of activists and climate leaders.
Several other BOM Fellows are also exploring air quality in their work.  Studio Above & Below, who join us this year, are investigating how real-time pollution data can be used within Mixed Reality and mobile applications. Their previous work Digital Atmosphere also uses immersive tech to look at the use of Aerosols.
Meanwhile, BOM Fellow Di Wiltshire – whose previous works have involved immersive performance and haptics –  is researching how air quality has improved through the pandemic, and the impacts that air pollutants have on health.
In June 2020, BOM welcomed The Guardian writer Jonathan Watts, Global Editor for the Environment, who was in Birmingham writing an article on the momentum for change after lockdown. His article 'Beyond Britain lockdown, could the country be healthier?' is the first in a series looking at how we might do things differently after the pandemic, and was written on his road trip between Birmingham, the North East, Scotland and Wales. It features the SelfAir app and fascinating discussions with Di, and is a great reflection on some of the challenges we face in the West Midlands as we emerge from lockdown.